Best ways to protect your rental property in Savannah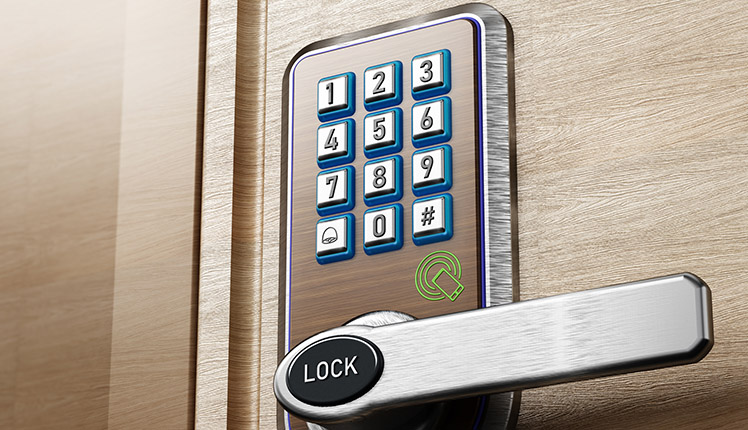 Irregardless of whether you rent out the family lake house or have a diverse portfolio of Airbnbs, it's often a challenge to protect your rental properties in Savannah. With metal keys going to different renters, it's simple to worry about missing valuables or former renters arriving unexpectantly. Not to mention, what would you do in the event of an emergency like a fire at your Airbnb while it's being leased?
From smart door locks to fully automated security systems, here are some top recommendations on how to protect your Airbnb in Savannah.
Stop hiding keys with your Savannah smart door locks
When a guest moves on, they may follow your instructions and provide the keys for the next guest. However, if someone took or secretly made copies of a key, it would be possible to access your place again later. Certainly, you might replace your locks if a key is lost, but that takes time and money.
Thankfully, you can put in smart locks that function along with your home security system to counter these concerns. You can then issue each visitor their personalized access code. When they leave, don't worry about a key dropoff. All you need to do is program the codes to deactivate after they exit. If previous inhabitants return and make an attempt to enter with their prior entry code on the number pad, you will receive a message of a failed entry on your mobile device.
Home automation makes available rentals appear to be inhabited
It's nice to think that your Savannah rental property will have a steady flow of renters, but that isn't likely to always be true. Nevertheless, you should strive to make it appear that guests are there so your place isn't targeted by burglars. Incorporating a security system with home automation allows you to benefit from smart lighting, motion sensors, and surveillance systems that make your home seem lived-in.
You can put your plan in motion by scheduling some lights to turn on at specific hours of the evening. Then, use your security smartphone app to warn you if your video cameras notice someone prowling in the dark or approaching the front door. You have the opportunity to employ the 2-way talk capability so they know you're watching or arrange for your lights to automatically illuminate when a camera or motion detection equipment identifies something unusual.
Protect your Savannah rental property with 24/7 monitoring
Your tenants will be more relaxed if they feel protected against burglars, particularly when Savannah is not familiar to them. In the event a thief makes an effort to gain entry, your home alarm system will not only initiate the alarm siren but will also notify your 24-hour monitoring team. Now, no matter where you are, help will be forthcoming. Your monitoring experts can even act as your point person and patch you in whenever you're free.
In addition to intrusions, your monitoring hub can link to fire alarms, flood sensors, and CO detectors. It would be understandably harrowing for your renter if a pipe bursts or a fire breaks out. Not only will you receive a smartphone alert that an urgent situation has occurred, but an agent can also coordinate help from emergency personnel while you're en route.
Order your new home security system in Savannah
Protect your rental property in Savannah when you get the latest in home protection. Luckily, Vivint offers options like smart lighting, smart door locks, and 24-hour monitoring. Reach out today and our experienced team will design a system that's perfect for your rental. Phone (706) 770-6267 or complete the form to get started!
Communities Served Around Savannah By Smart Security Specialists Your Local Vivint Authorized Dealer